Testimonials From Our Owners!!!!
SEE OUR FACEBOOK PAGE ELLIOTT'S BULLBABIES SEE OTHER TESTIMONIALS AND BE OUR FRIEND.
Soundra,Eric and I wanted to write a testimonial for you now that you have more Panda Pups! First of all, congratulations! Second of all: Ramona has been the most amazing addition to our lives. Being a bulldog, she has had her fair share of difficulties, but I count myself the luckiest of dog owners. She has a beautiful temperament to match her beautiful markings. Everywhere we go people smile and ask where we got her. She is a joy and we want to thank you so much for bringing her into our lives!
Sarah & Eric
We love our Little Miss Molly!

We had two bulldogs before we had met Sandy and the poor things had many health issues and some bad temperaments. They were both from Pet Land.

Both of our Pet Land bull dogs died at a young age. We met Sandy 17 yrs ago and fell in love with her dogs! She truly is a dog lover!!

We knew we would purchase our next bulldog from her as we saw her hand raise all her puppies and love on them as if she were keeping everyone of them.

We selected are beloved Winston 15 yrs. ago and he was the love of my families life. He was the best pet we had ever owned! Winston lived to be 11 yrs. old!

We had always stayed in touch with Sandy and visited her and her puppies often…knowing as Winston was aging we would certainly select another bulldog from Sandy.

Three years ago (3 months after Winston passed) we selected our Little Miss Molly and she is as healthy and wonderful as anyone could every want. Sandy's puppies, Mommy's and Daddy's are the sweetest dogs we have ever met. Over the years we have referred several folks to Sandy and our own son purchased a bulldog from Sandy as soon as he was out of college.

Our family can't say enough about our relationship with Sandy and her outstanding furry children!
Soundra,
This is Ryan Smith we purchased the little girl puppy from Allie's litter. We have been so happy with her we may consider a second. Could you send me a picture of each of the females to be breed, along with their size? We like the smaller, i know they probably won't be as tiny as our little Lainey is, but we would like smaller parents if possible. Just an update Lainey is 15 pounds now, we took her in for shots this past week. Thank You and Karla for having such a wonderful bulldog, she has been just a joy!!! ~ Ryan
Soundra,
Just thought I would send a photo of Lainey she is doing good. Just had the Cherry Eye removed from her left eye and she went through that just fine. She is up to 9 pounds now, she has been a wonderful addition to our home.

Thanks again
Ryan & Molly
Sandy,
Sorry it's been so long since I've sent you a pic of Chance.Here's one of him snoozing.He's been doing wonderful!
Nancy
Hello Sandy,
How is every one? Did you get some snow? We got 4 or 5 inches.I'm ready for spring.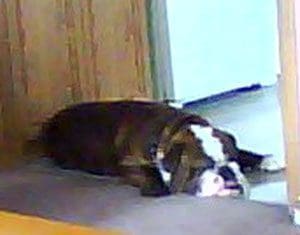 Chance is doing great. He went to the vet yesterday for shots including bordatella,heart worm check and i took a stool sample.The vet said he looks real good.He weighs 65 lbs.Hard to believe he's been with us for a year.Everybody always makes a big fuss over him when i take him somewhere and one woman was taking pics of him.
I was wondering how old he has to be for him to be breed and if you would be interested in using him for any of yours or know anybody looking for a stud?
Take Care,
Nancy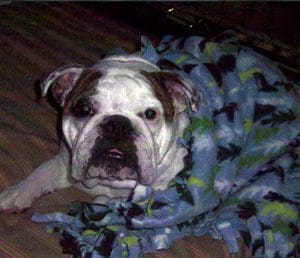 Hi Soundra, how are you? I've been meaning to email forever now. I loved, loved,
loved the Christmas card you sent, it has to be the cutest Christmas card I've ever received. Here are a couple of recent photos of Mr. Chips. He has become a big boy. He is well over 60 Ibs. and that was around Christmas time. He has the most adorable personality and strangest quirks, but overall he has been a really good puppy. I take him for 2-mile walks at least 5 days a week, so he is in really good
condition, and he has a bunch of "friends" that we meet up with to play in the snow.
Hope all is well at your household. Tell Rex we all say "hello". ~ April
Hi! We got a bulldog from you over a year ago. Capo was born April 19,2009. His parents are Elliot's HD Fat Boy and Redd's Heavenly Xanadu. His full name is Capo the Don Nicklin =) Ijust wanted to send you some of his pictures. We absolutely love him. He is the most spoiled dog I know. He is our child just with a lot of fur! We would love to get another bulldog sometime soon when we have a bigger house. We want a little girl this time' Here is a little update about Capo, he is about 55 pounds!
The vet here just loves him. He is very sweet. Loves to sleep in till noon. We take him on walks but sometimes he makes us carry him back because he is to tired! Loves to
be in the car! He goes everywhere with us. He was a rooster last year for halloween and this year he is going to be a turtle. We got him a lifevest so he can swim in the pool this summer which he did great at! We had a birthday party for him which I will include some of those pictures. We even made him a doggie cake and invited other dogs over. The theme was sponge bob! I just wanted to say thank you for the best part of our lives! We would be lost without him. Sometimes I just want to call off work because I feel so bad that he has to wait 2 hours for Casey to get home from work. Thanks again so much! Hope you enjoy the pictures!
Thanks – Emily and Casey