HAPPY HAPPY SUMMER   FUN!!!!!!!!        SCROLL DOWN SEE PICTURES OFF PASSED LITTERS AND  INFORMATION!!!!!!!
                     CALL  ABOUT US  READY NOW LITTER OF 7!!!!!!

WATCH FOR  OUE FRENCH LITTERS THIS YEAR 2022   THEY ARE LIKE CHIPS  YOU CAN't JUST HAVE ONE!!! Call  to Visit us!!!! See us of FACEBOOK ELLIOTTS BULLBABIES   ELLIOTT'S FRENCH BULIES!!!
ZIGGY   FEMALE FUTURE BREEDING BLUE WHITE PIEBAL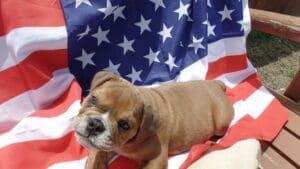 We raise Ohio healthy quality AKC English & French Bulldogs. We come visit us. Ask question and we are here for our owners 24/7!!!!  We do not sell cheap junk mix pup mill pet stores bullies!!! Research before you buy.!!    Call or text for appointments and information.  937 642 3384. 

SUMMER IS COMMING   MAKING PLANS  FOR YOUR FAMILY!!!  BUT THIS ON YOUR CALENDERS!!!

  Ask about our Reunion Party   Elliott's Bullbabies  Sept  17 2022. bull-babies-2022-invites.pdf  (click on this  bring up the invite) Since 2007 we have been having Bullbabies Reunion Parties!!   I Love so much Seeing all my Owners Grandbullies and Friends!!!!   But Sad this will be OUR LAST BIG REUNION. We are still raise our Bullies & French and will always be here for our Owners!!!
Welcome to our Ohio based AKC ENGISH BULLDOGS & FRENCH BULLDOGS SITE!!!!  Home of Elliott's Bull Babies, Ohio breeder since 1994, I have taken great pride and Care in the Health and Breeding of Dams, Studs and Our Precious Gorgeous  Lovable Puppies. Over 500 Bulldogs strong with our family Owners!!!   SEE THE OUR REUNION PAGE! From last year Reunion.   CHECK OUT OUR  MONTHLY TIP PAGE AND OUR HEALTH NEWS LETTER.  WE HAVE A LOT OF INFORMATION TO HELP YOU PICK A HEALTHY PUP AND RIGHT BREEDER.  See us on FACEBOOK ELLIOTT'S BULLBABIES   TO SEE OUR NEW LITTERS   CLICK ON ENGLISH BULLDOG  & FRENCH BULLDOG AVAILABLE–INFORMATION AND PICTURES(click on pictures to enlarge them)   CLICK ON MEET THE PARENTS– FOR INFORMATION ON DAMS & STUDS BREEDING PAIRS FOR THE COME 2022!!!   ENGLISH BULLIE LITTERS  READY NOW AND  DUE   JUNE AND JULY.  AND THIS FALL & CHRISTMAS READ 2022    OUR FRENCH BULLIES WILL HAVE THIS FALL!!!    FROM TIME TO TIME YOUNG ADULTS FOR SELL OR REHOME , SEE OUR BREEDING DAMS.   SEE THE INFORMATION ON OUR REUNION THIS YEAR 2022 !  BUT WE WILL SEE YOU THEN.
The grandparents and parents have great bloodlines, and our Dams can be free whelpers.  All of our bulldogs are American Kennel Club (AKC) registered.  All of Studs and Dams are DNA'd, Health Screened, and Micro Chipped.  Our line come from TENNISON   LITTLE PONDS and CHEROKEE.  See our Rare Colors ENGLISH BULLDOG GROUP-  DNA Tested. black blue tri and chocolate. We call them our PANDA BULLIES-Click on the page to see litters.  All of our puppies are social, hand raised with friendship, and are a part of our family.  They have very lovable temperaments, are very laid back, and are great with people of all ages from small children to adults.
We do not breed closely related bloodlines.  This is best for pets, breeding health and quality.  Well now have Rare Colors – MERLI   BLUE  TRI CHOCOLATE LILAC  SEAL And We call them Our Panda Bulldogs References are available. We have over 500 satisfied customers. AKC INSPECTED APPROVED.. We offer a full and limited registration on all of our puppies ensuring that they are breeding quality with a health check from our Vet. All of our pups come to you with a 7 DAY look over to your Vet.  AKC registration, and a TWO/THREE YEAR HEALTH GUARANTEE and PET INSURANCE.  The pups are paper/crate trained for easier housebreaking.  They are health checked by our veterinarian, first shots/bordetella and wormed. Go home with total information package shots  and pictures of parents.  We are available for questions and information 24/7. WE ARE A LIFE TIME BREEDER!!!
*** Puppies will be 8-10 weeks old or 10 pounds before they come to your home ***
We give you an information packet that will help you in raising your new family member.  We like to stay in contact with all of our Bull Dog children. WE GO OVER OUR HEALTH INFORMATION WITH YOU. IT IS EVER IMPORTANT YOU UNDERSTAND HOW TO CARE FOR YOU NEW FAMILY MEMBER.  I WANT TO SHARE WITH YOU OUR 30YRS  HOW TO RAISE A HEALTHY PUP !!! Please feel free to send E-mails, pictures, and attend our annual "Bull baby Reunion". We have boarding for your BULL DOGS. Please check out all our web-site lot of information and pictures of your BULL FAMILY!!!! (see below) 
We do not  sell our English & French BullDogs or their offspring to Pet Stores, Brokers or Puppy Mills—PLEASE RESEARCH THE BREEDER DON'T GET SCAMED OR A SICK BULL! KNOW WHAT AND WHO YOU ARE BUYING FROM!!! ASK FOR FACE TIME ADDRESS TO CHECK THE BREEDERS ON GOOGLE MAP   MAKE SUR THEY ARE AKC REGISTER   CAN SEE THE PARENTS   MANY MANY SCAMS  ON FACE BOOK AND BAD BREEDERS.  SHOP SMART!!!!!! If you want one of our Gorgeous puppies, we want you to come visit us and get to know us first. Deposits to hold picks $500  not refundable but tranferable to another litter. PET PRICE $3,500 AKC regular colors brindle  fawn  red  white.  PET PRICE RARE COLORS AKC  carriers  Starting4,,000/4,500  Chocolate, Blue tri and Black  Full Lilac $4,500./5,000  Merlie  $6,000/6,500 depending on colors! Our French Bulldogs range $ 4,000./5,000  Full rights just ask.  Sign up on our waiting list and litter new litter new/updates puppy page.
 WE HAVE 9 FEMALES OF BREEDING AGE. (breeding on second/ third cycle).  Our Females are breed Once  year about total of 4  times. Then female Spayed  at last litter and some Rehomed. WE HAVE OUR OWN STUDS. Used here and other people use our Studs too.   With our co-op group, we can offer AKC ENGLISH & FRENCH BULLDOGS to choose from all year round.  All the BREEDINGS  TO BIRTH AND RAISING  are done under OUR HANDS ON SUPERVISION with our bloodlines. NO BROKER RAISING  SELL TO PET STORE OR PUP MILLS HERE. CAN SEE PARENTS AND GRANDPARENTS HERE.  ALL  We offer all different sizes and colors of AKC English Bulldogs  including; fawn  red, white, brindle, gray and piebald patched.  Our rare color groups. chocolate blue black  tri and quads  Lilac and Seals.  Our dogs range in size from 35-75 pounds.  We also have true Mini English Bulldogs which weight  50 pounds and under. Our French Bulldogs are small parents both 26lbs and stocky. Colors blue and blue fawn too black/blue brindle.
To learn more about us, click on the links pages of this website.  You may also contact us by phone at (937) 642-3384, or E-mail at: skelliott7@embarqmail.com  Facebook ELLIOITT'S BULLBABIES. Check out all our information on our site          Thank you   Soundra