ENGLISH BULLDOG REGULAR & RARE COLORS GROUP Our Panda Puppies (black & white) Merlie litters! Pictures of some of Beautiful litters! from 2000 till 2022
YOU WANT TO SEE ADORABLE – NEW LITTERS SEE NEW LITTER NEW PAGE
CB AND ANGUS LITTER SEPT 9TH 2013 WATCH FOR THIER NEW LITTER THIS SPRING 2015!!!!!!!!!!!!!!!!
Suzie and Angus our proud parents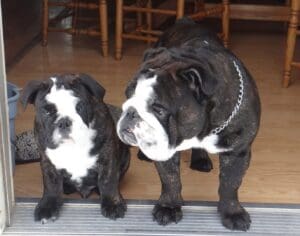 of our FIRST PANDA BULL LITTER. (Our featured puppy in NAME IS ROMA LIVES IN CALIF NOW above is from their litter). ANGUS ON RIGHT STANDING WITH HIS SON BULLWINKLE!!